Here is another innovative idea of integrating solar panels onto the mobile device so that it won't run out of juice anytime anywhere. With the solar panels, it will able to convert solar energy to electricity to power up your device continuously.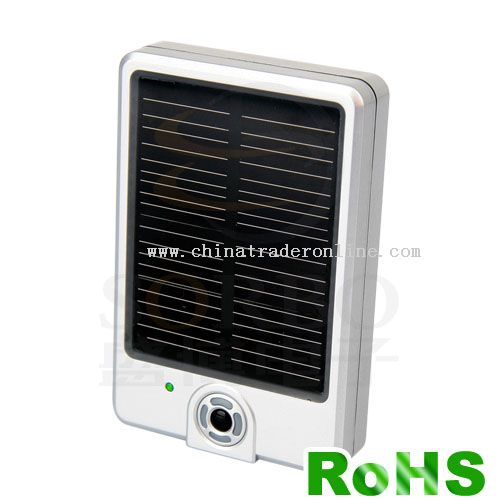 Why Solar Generators?

Good for the environment. Good for your wallet.
Clean

No exhaust. No carbon emissions. No oil changes..
Ask a sound engineer who has worked with Mobile Solar Power and he'll tell you nothing compares to the crisp, fuzz-free power a solar generator will give you.

Quiet

Around the jobsite, where communication is of paramount importance, silent power generation of the solar generator is even more valuable.

Reliable

Our solar generators don't rely solely on the Sun. All of our systems can be charged by grid power, or with a traditional generator on those days that the sun doesn't shine. And with only a handful of moving parts, few things will ever have to be replaced during the units' life.
The beauty of our solar generators lies in their simplicity.

Affordable

Even though the original cost for a solar generator is higher than some petroleum generators, it will save you money in the long run. These units will last longer, require less maintenance, and don't rely on increasingly expensive fuel.

If you rely on petroleum generators to power your home, retreat center or lodge, think of the money you'll save on fuel alone. Add in all of the maintenance work and various mechanical problems that come with an internal combustion generator and you can see why a solar generator is a good choice.

Durable

With panels designed to withstand hailstorms that could seriously injure you, and inverters built to standup to rugged, extreme-weather conditions, these solar generators will go the distance and perform for decades.

Good for business

Owning a solar generator is very beneficial, whether you're saving money on fuel or showing your customers that you care about the environment. Watch as people drive by and stare at the trailer, then watch as they realize what it is and smile.

Safe

These units pose no threat to the devices you run off of them. You should never worry about that expensive laptop or power tool. In fact, you're better off running them on a solar generator than gambling with the sporadic power provided by your utility company.
Features of this solar mobile power:
Features
1. It adopts environment friendly lithium-ion polymer with high quality, with Capacity of 2000mAh.
2. It adopts three charge models: Solar powered, charged by USB port and charged by wall Charger.
3. Suitable for products with voltage of DC 5 V±0.5V and current of ?500mAh.
4. Provide power for various digital products which have USB Charger by different connectors: Mobile Phone, PSP, MP3 player, MP4 player, PMP, Bluetooth, digital Camera, etc.
5. Smart protection chip: over charging protection, over-discharge protection, overload protection, short circuit protection and low battery warning.
6. Super long lifespan, after 500 cycles of charge and discharge circle, the Capacity remains more than 80%.
7. It is convenient to charge your digital prodcts at anytime and anywhere.
Product specification
Item Specification
Battery Type Polymer Lithium-ion Battery
Dimension 80.5mm*56mm*15mm
Weight 81.08g
Working Temperature -10 to 45
Storage Temperature -10 to 55
Capacity 2000mAh
Rated Input Voltage DC 5.0 –6.0V
Rated Output Voltage DC5.6 V±0.3V
Fully charged time 4-5.5H
Electricity consumption at static state ?10UA
Indication sound 71.74-73.42db
Cycle life ?500 cycles (arter 500 cycles,the Capacity remains more than 80%).
The current shined directly by sunlight (under the strength of 120000Lux) 60-70mAh
Fully charged time by sunlight About 33± 1 hours (under the strength of 120000 Lux)
Accessories Users Manual, Connection cable, connectors, Charger, protection Bag