Its an emergency charger for cellphone, It has five adapters for phones such as Nokia, Samsung and Sony Ericsson, Motorola, etc. It uses only an AA cell to be able to charge a mobile, you can use any kind of AA types .
In any case, for people who depend on their phone and often find themselves far away from an outlet,Alternately, said phone-addicted people could just buy an extra battery.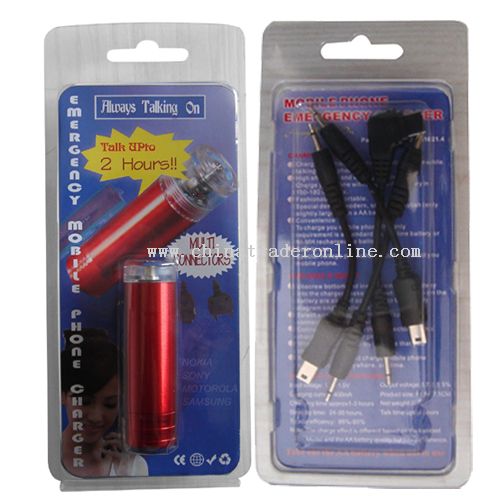 It's very useful when you're on a long trip by bus or airplane, carry a pair of fully charged AA cells and you're on the go, you won't have any energy issues, just put the AA, plug the emergency charger to your cellphone just like any AC charger and it will charge yout battery's cellphone!
Features:
Mobile phone Charger with one piece AA size battery
All kinds of Adapters are available
Suitable for Gift and travel, easy to carry
One single AA battery adds up to three hours extra talk time
Just pop in an AA battery in this handy device and connect your model specific Adapter to your phone to enable immediate usage of your mobile device. Works anywhere at anytime
Use for any portable device which are using 5-6V Charger
Packing:
One piece/blister pack, 200 pieces/carton
Carton size: 63*41*36CM cm
Gross/net weight: 15.5/12kg