No matter how hard you try to protect your data, hacker usually still able to crack the password and look into your important files. But now there's a secure protection to your data, the "Fingerprint USB Flash disk".
Fingerprint USB Flash disk is a USB drive with biometrics technology. It uses a fingerprint protection to protect the data inside your USB disk. There's an onboard fingerprint recognition device, so you have to put your finger first on the device to be able to access the data on the USB disk. You can also set it up to make it scan all your five fingers before the disk accessible. That's cool, and I think I've never seen any fingerprint device that ask for each of your finger's scan to unlock the device.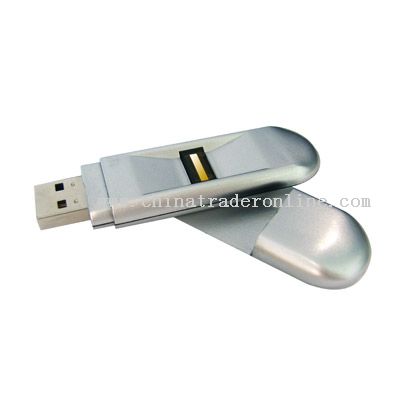 Feature
Fingerprint and key, easy document encryption.
Fingerprint data protection.
No need to install anything, plug-and-play.
Sliding protection cover, protecting the fingerprint sensor.
Unique dynamic optimizing algorithm, better image quality.
Function
Security with convenience
Designed for mobility, FKS155 is not just portable storage solution. Aratek thinks more. The portable storage devices have the need for data security. With state-of-the-art live scan chip sensor, only enrolLED fingerprints can access the data stored in the product.
Fingerprint Management
Use fingerprint to instead of ID/PW information associated with convenience and security, and there is no need to memorize and worry about your password leaked out or broken by hackers. After fingerprint identification, users will no longer need to memorize their account IDs and passwords.
Data Encryption
File & Folder encryption/decryption prevents accidental or corrupt information leakage. When the user wants to encrypt individual files or folders on the computer, the user only need to simply swipe authenticated fingerprints, then the file or folder will be encrypted or decrypted Automatically. It is a snap! Without either the authenticated fingerprints or master password, the file or folder can not be access.
Backup user information
You can decrypt the previous files in the computer with the precious registered fingerprint in case you lost the flash memory. Remember only the previous administrator who encrypted the files can access to the data!
Specification
Basic Specification 1.Product color: argent
2. Product logo: NO
3. Product dimension: 762310 mm
4. Net weight: 15g.
5. Gross weight: 105g.
6. Package dimension:10010035mm
7. Box dimension:480430310mm 156pcs/1box
8. Box gross weight:17kg
Electric 1.Capacity:256MB/512MB/1G/2G
2. Interface: USB 2.0
3. Write speed: Max 480 Mb/s
4. Voltage: 5V
5. Current: <500 mA
6. EMC : FCC CE
7. ESD : > 15KV
Environment Requirement 1. Temperature: 0°C~70°C
2. Humidity: 0% ~ 85%
Langue Simple Chinese /Traditional Chinese and English
Program install No
Fingerprint Remarks
Fingerprint Sensor 1. Semi-conductor sensor
2. Swipe Capturing technology
3. Resolution: 508 dpi
4. Capturing area: 9.6 x 0.8 mm (19216 matrix)
5. Capturing speed:300 frame/sec
6. Swipe speed: ~20 cm/sec
7. Erosion: >10M times, anti fouling.
Fingerprint algorithm 1. FAR: 0.0001%
2. FRR: 0.01%
3. Registration time: 3
4. Matching: 1:1 ,1:N
5. Matching time: <0.1S