A digital compass uses an electricity to create a magnetic field. The earth's magnetic forces push and pull that magnetic field causing electrons to pile up in certain areas. The digital compass reads where the electrons pile up and can tell which way you are pointing in relation to the external magnetic force.
This is called the Hall Effect. Just like a normal compass, any chunk of metal, magnet, electric field, or other interference with the earth's magnetic forces will corrupt the digital compass's reading.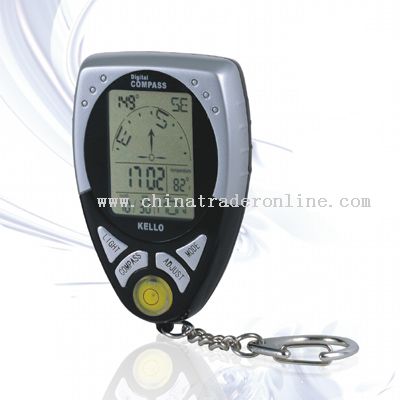 A digital compass can quickly give a bearing and is easier to read since it shows degrees as numbers rather than a dial that you need to interpret and estimate the degrees. It is also faster since you don't need to wait for the compass needle to spin around and settle into its final direction.
Features:
Product Size: 8.6×5.6×2.1cm, Material: ABS
. Grand digital Compass with stopWatch and thermometer function
. Direction tracking, 20 direction memories
. Two row display for lap/split time measurements with 1/100 sec
. Store and recall of up to 10 lap and split time
. Memory recall after reset and during operation
. Calendar and time (12/24 hour format)
. Daily Alarm and waterproof
. Large backlit LCD display
. Stone-like designed for nature and humanity1
. Great portable electronic Compass for hiking and other outdoor activities
Packing Details:
.Gift box packing
.120pcs/G.W.:7.8kgs/N.W.:6.8kgs